by Erin Holaday Ziegler
Two University of Kentucky professors and acclaimed authors were awarded honorary degrees this past weekend.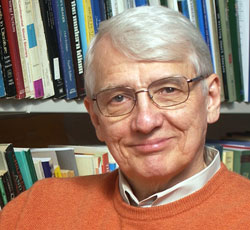 Gurney Norman, UK English professor

Gurney Norman, Kentucky Poet Laureate in 2009-10 and director of UK's Creative Writing Program, was awarded an honorary Doctor of Humane Letters degree from Berea College on Sunday, May 8. The acclaimed Appalachian author addressed 240 candidates for graduation during Berea's 139th commencement.

Born in Grundy, Va., and raised in southwestern Virginia and eastern Kentucky, Norman graduated from UK in 1959 with degrees in literature and creative writing. There, he became friends with fellow writers Wendell Berry, James Baker Hall, Ed McClanahan and Bobbie Ann Mason. After a year of graduate school, Norman received a Wallace Stegner Fellowship in Creative Writing at Stanford University where he studied with literary critic Malcolm Cowley.

Recognized as an authority on the literary and cultural history of the Appalachian region, Norman began his career in the U.S. Army before returning to his hometown of Hazard in 1963 to work as a newspaper reporter. In 1965, he returned to California where he wrote his two published books "Divine Right's Trip," originally published in "The Last Whole Earth Catalog" and later as a book, and "Kinfolks," which earned the Weatherford Award in 1977 from Berea College and the Appalachian Studies Association. Two years later, Norman joined the faculty at the University of Kentucky as an associate professor of English, a position he has held for more than 30 years.
In the late 1980s, Norman's work moved from fiction to nonfiction and from print to television. Kentucky Educational Television premiered three one-hour documentary programs written and presented on-screen by Norman in collaboration with director John Morgan. "Time On The River" (1987) is a study of the history and landscape of the Kentucky River Valley. In "From This Valley" (1989) Norman explores the history of the Big Sandy River Valley, with a focus on the valley's rich literary tradition. "Wilderness Road" (1991) traces Daniel Boone's route from the New River near Radford, Va., through Cumberland Gap to the banks of the Kentucky River in Madison County, Ky.

In addition to his work with television, Norman collaborated with independent filmmaker Andy Garrison, who directed three films based on Norman's short stories. Norman's short story "Fat Monroe" was made into a film starring Ned Beatty in 1990.

In 2002, the Eastern Kentucky Leadership Conference honored Norman for his outstanding contributions to advancing regional arts and culture. In 2007, the Appalachian Studies Association awarded Norman the Helen M. Lewis Community Service Award, recognizing significant contributions to Appalachia. Norman continues to serve as senior writer-in-residence at Hindman Settlement School's annual Appalachian Writers Workshop.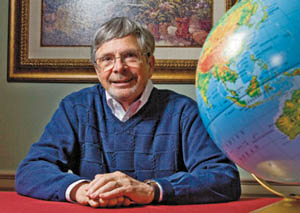 George Herring, UK history professor

Author and former UK history professor George C. Herring received an honorary Doctor of Laws degree during his alma mater's commencement ceremony Saturday, May 7. The award-winning author was also the keynote speaker to Roanoke College's 472 graduates.

Herring, renowned as one of the nation's foremost experts on the Vietnam War, told graduates "We have been here before! Each generation of Americans has faced serious problems. Today's nasty political partisanship is not new."

Herring received his bachelor's degree from Roanoke College in 1957 and his doctorate from the University of Virginia in 1965. He is Alumni Professor of History Emeritus at UK and affiliated with the Patterson School of International Diplomacy and Commerce.

Herring served as chair of the Department of History from 1973-1976 and 1988-1996, and he was a Fulbright Scholar at the University of Otago, Dunedin, New Zealand. In 1993, he was a visiting professor at the U.S. Military Academy and in 2001 at the University of Richmond. In 2002, he was awarded the Society for Historians of American Foreign Relations' Norman A. Graebner Prize for distinguished contributions to the field.

Herring's research centers on U.S. foreign relations. His most recent work, "From Colony to Superpower: American Foreign Relations Since 1776," (part of the Oxford History of the United States) was a finalist for the 2008 National Book Critics Circle Award for nonfiction. His other published works include "Aid to Russia, 1941-1946: Strategy, Diplomacy, the Origins of the Cold War"; with Thomas M. Campbell, eds., "The Diaries of Edward R. Stettinius"; "America's Longest War: The United States and Vietnam, 1950-1975"; "The Secret Diplomacy of the Vietnam War: The Negotiating Volumes of the Pentagon Papers"; and "LBJ and Vietnam: A Different Kind of War."

Herring concluded his remarks at Roanoke with a few words of wisdom. "I know commencement speeches are supposed to give advice, but I'm not much of an advice guy," Herring said. "I will leave you with what I call Herring's Rules: work hard, have fun and be good to those around you."