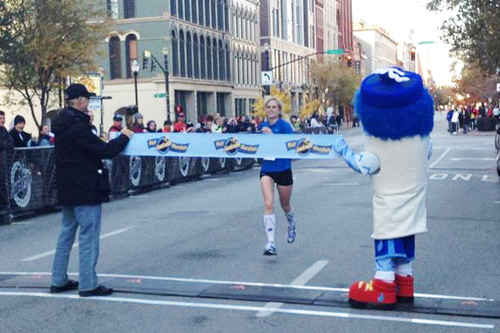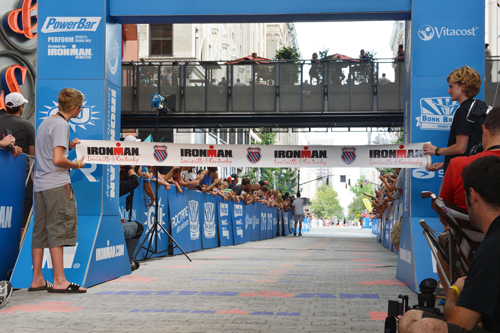 First photo: Jennifer Osterhage crosses the finish line as the women's winner of the 2011 Louisville Sports Commission Half Marathon.
Second photo: As the winner, Jennifer was asked to hold the women's finish line tape at the summer 2012 Louisville Ironman (standing right). 
Jennifer Osterhage is a lecturer in the Department of Biology at UK that specializes in molecular biology, phylogenetics, and biology education. In addition to teaching an introductory biology course (BIO 148) and coordinating the Genetics laboratories, she is continuing a collaboration with other geneticists and ecologists at other institutions investigating the evolutionary relationships among the Homalopsidae, rear-fanged water snakes found throughout Southeast Asia.

Outside of all her academic pursuits, Osterhage enjoys running – a lot, and she is quite successful as well. Last year she won the Louisville Sports Commission Half Marathon, and we asked her a couple of questions about her passion for running.
Last November you were the women's winner of the Louisville Sports Commission Half Marathon – How big of a thrill was that for you? Had you won any races before?

I have won some smaller 5K races before, but the Louisville Sports Commission Half Marathon was definitely the biggest race I ever won. Around mile 11, I looked around and realized that I may win the race. I got really nervous! I don't like drawing attention to myself (even though I teach in front of 300 students every day). When I crossed the finish line, they wanted to interview me right away. I was very tired (and feeling a little nauseated), so I don't think my interview went very well. I met a lot of great people through that experience, though, which was a lot of fun.

The Louisville Sports Commission asked me to hold the ribbon for the women's winner of the Lousiville Ironman. She's an amazing athlete! I went to the race early to cheer on some friends. I felt honored holding the ribbon for the race. It has me motivated to train for triathlons next year.
What is your history with running?

I've been running since 5th grade. I walked on UK's cross-country team and ran my first 3 years as an undergraduate. There is a large running community in Lexington that has kept me motivated to continue training. Last year, I completed the Louisville Triple Crown of running. It's a 5k, 10K, and ten-miler, each 2 weeks apart. I came in 5th for the series. That was a great experience, and I plan to complete those races next year.

I took a little time off to focus on teaching, but I'm planning to train for a few 5ks this fall and start getting ready for the 2013 Triple Crown of Running.