by Whitney Harder, Whitney Hale
(March 11, 2014) — Eugene Richards, a photographer, writer and filmmaker known for capturing moments of political activism and social issues in his work, will give the final presentation in the 2013-14 Robert C. May Endowment Photography Lecture Series with a lecture at 4 p.m. Friday, March 14, in Worsham Theater at the University of Kentucky Student Center. In conjunction with the talk, an exhibition of Richards' work will be on display March 14 through April 27, in the Art Museum at UK. The lecture and exhibition are free and open to the public.
Richards launched his career with a series of haunting photographs documenting rural poverty in Arkansas and from there worked for Magnum Photos as a photojournalist for 17 years.
Some of Richards' most noted works are his books, including "Dorchester Days," illuminating issues in his racially diverse hometown;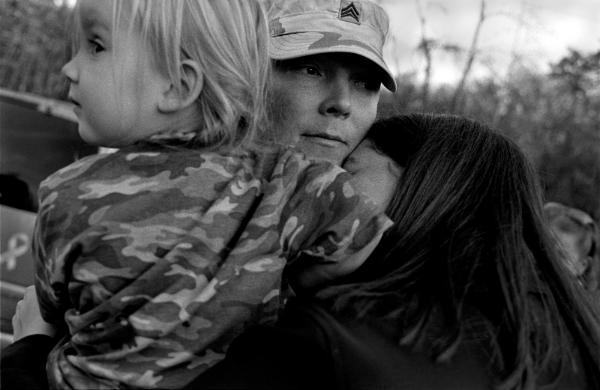 "Exploding into Life," documenting his first wife's struggle with breast cancer, and "Cocaine True, Cocaine Blue," which explored the ravages of drug addiction.
Richards has published a total of 16 books and has been honored with a Guggenheim Fellowship, National Endowment for the Arts grant, and the Robert F. Kennedy Journalism Award among others. He has also been recognized on Esquire's "100 Best People in the World" list, American Photo's "100 Most Important People in Photography," and Photo District News' "25 Most Influential Living Photographers."
The artist's most recent work, "War is Personal," focuses on the ongoing effects of the Iraq war on soldiers and their families. Richards won first place in the contemporary issues category of the World Press Photo 2010 contest based on his work.
Richards graduated from Northeastern University with a degree in English and studied photography with American photographer Minor White. Before his career in photography, Richards joined VISTA, now AmeriCorps VISTA, and co-founded a social service organization and community newspaper in Arkansas. Richards now pursues his own projects, including photography and short film, full-time. 
The 2013-2014 May Lecture Series explores appropriation, portraiture, landscapes and socially concerned photography. The series is made possible through the Robert C. May Photography Endowment, a museum fund established in 1994 for the support of acquisitions and programs relating to photography.
The mission of the Art Museum at UK, part of the UK College of Fine Arts, is to promote the understanding and appreciation of art to enhance the quality of life for the people of Kentucky through collecting, exhibiting, preserving and interpreting outstanding works of visual art from all cultures. Home to a collection of more than 4,500 objects, including American and European paintings, drawings, photographs, prints and sculpture, the Art Museum at UK presents both special exhibitions and shows of work from its permanent collection.