by Kathy Johnson
(July 21, 2014) — A portion of Rose Street closes today in connection with construction of the new $112 million Academic Science Building that will transform the way students, faculty and staff learn, teach and conduct research on the University of Kentucky campus.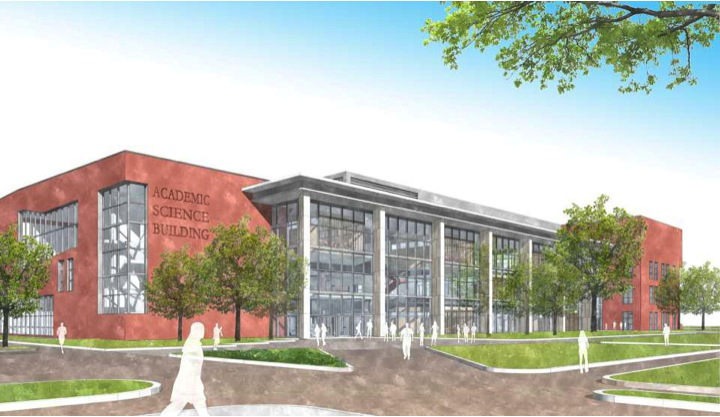 To move forward on this critical facility, demolition of old buildings and the ensuing construction on Rose Street will result in the need for closure of a portion of Rose Street between Huguelet Drive and Funkhouser Drive, and the section of Rose Street from Columbia Avenue to Funkhouser Drive will be restricted to local traffic only. Traffic will be detoured around the construction area using the streets of Columbia Avenue, Woodland Avenue, Hilltop Avenue, University Drive and Huguelet Drive.
Meawhile, the portion of Washington Avenue from South Limestone to Gladstone Avenue that has been closed will reopen, and the section of Washington Avenue from Rose Street to Gladstone Avenue will close.  Access to Graham and Gladstone Avenues will only be available via South Limestone. Pedestrian traffic on Washington Avenue from South Limestone to Rose Street will remain open throughout the project.
Impacts associated with this construction project will be in effect until September 2015.
A map of the affected areas denoting alternate traffic and pedestrian routes can be accessed here.
In response to the Washington Avenue work, the CATS Summer/Break Route now travels down Huguelet Drive instead of Washington Avenue, resulting in the addition of a bus stop at Scovell Hall and the elimination of the Donovan Hall and Washington Avenue stops.
University of Kentucky Environmental Health & Safety has compiled a list of safety tips that pedestrians should keep in mind.
Barriers are in place for a reason. Please respect all barriers and do not trespass or attempt to "shortcut" across any construction zones.
Take extra precautions when walking along construction zones, particularly when approaching gates/openings in these zones.
When construction activities result in sidewalk closures and pedestrian detours, follow the detours. Do not walk in areas not designated for pedestrians.
Cross streets only at designated crosswalks.
While it is always safest to walk on a sidewalk or designated pedestrian area, if for some reason you must walk in a street, walk facing traffic.
Distracted walking caused by using a cell phone can be as dangerous as driving while distracted. Attention to your surroundings while walking and crossing streets will keep you safer.
To report any unsafe conditions to University of Kentucky Environmental Health & Safety, call 859-257-3827.
More information about road closures, detours, utility work and the construction projects of the Academic Science Building, Commonwealth Stadium, Gatton College of Business and Economics Building and University Lofts Building can be found here.
Information about traffic impact only is available here and here. 
Anyone wanting regular email updates about campus construction and its impact on traffic, please click here to sign up for a listserv.