by Gail Hairston
Imagine you are far, far from home, and those around you are terribly excited about a family holiday that focuses on foods you may never have tasted. That's the way many international students at the University of Kentucky feel about Thanksgiving, a holiday as American as the apple pie finale.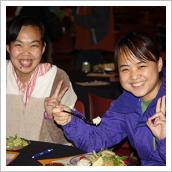 UK Alumni Association doesn't like anyone to be left out of this special holiday. For seven years, it has celebrated Thanksgiving in a global fashion with students and their guests from every corner of the world.
All multicultural and international students are invited to join the UK Alumni Association at the Student Center Grand Ballroom for the free 7th annual Multicultural Student Thanksgiving Dinner from 5 to 7 p.m. Tuesday, Nov. 20. The c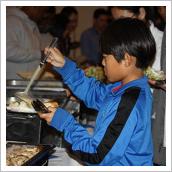 omplete meal is prepared and presented by UK Dining Services, a division of the Office of Student Affairs.
This family friendly event has quickly become a holiday tradition at UK.  Students will join UK Vice President for Institutional Diversity Judy "J.J." Jackson for a Thanksgiving feast, including roasted turkey with dressing and all the traditional holiday foods. Vegetarian options will also be available. A drawing will be held for door prizes.
Space is limited for this free event.  For more information and to register, visit www.ukalumni.net/thanksgiving2012.