Video by UK Public Relations and Marketing
By Jenny Wells
Fifteen undergraduate researchers from the University of Kentucky have been selected to present at the 2013 Posters-at-the-Capitol event today at the state Capitol in Frankfort, Ky. This event will host more than 200 student representatives from across the state displaying the results of their research and scholarly or creative work.
"Posters-at-the-Capitol is a very competitive program," said Diane Snow,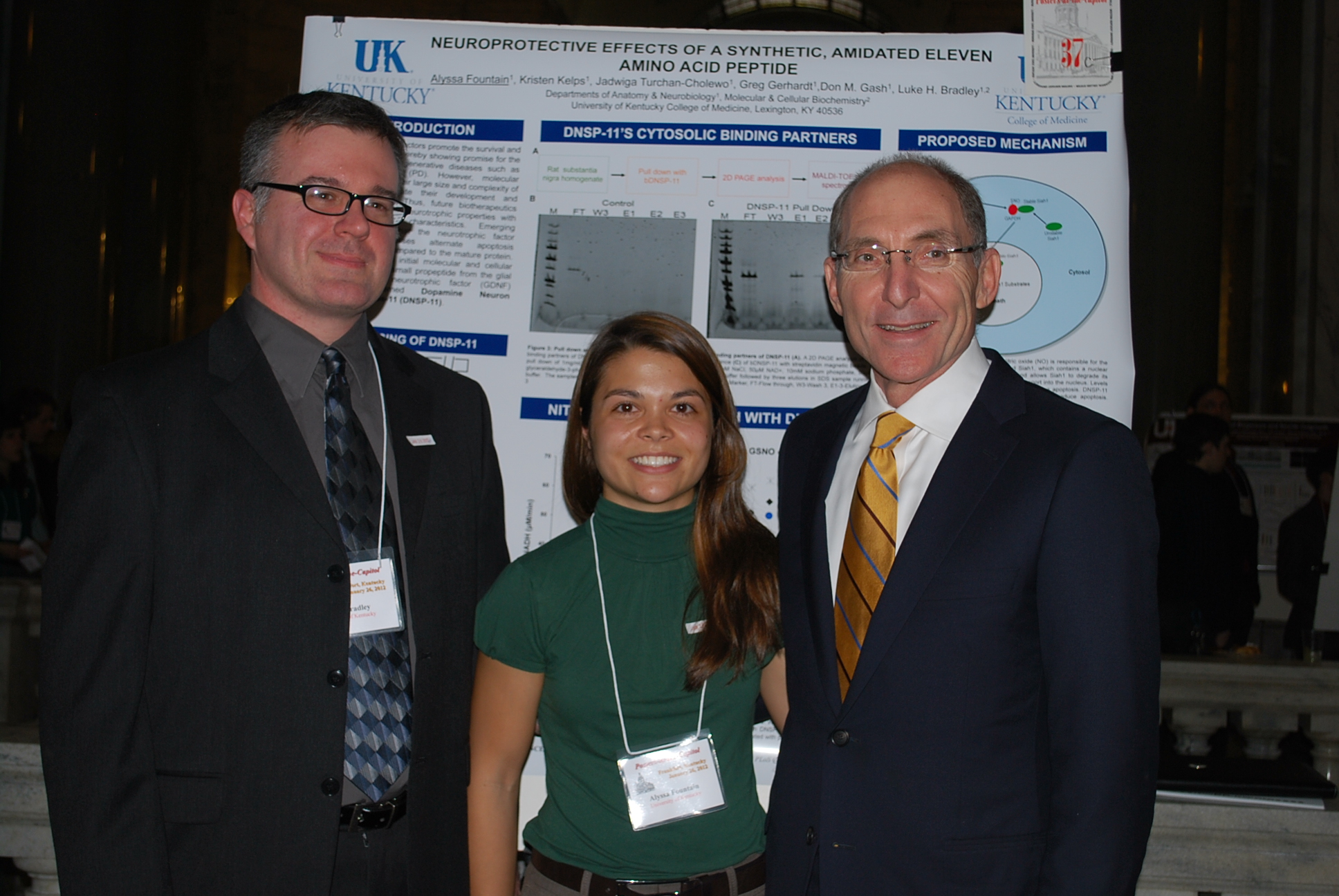 director of the UK Office of Undergraduate Research. "So we are very proud of our undergraduate student researchers! In addition to having the opportunity to present their work, these students also have an excellent opportunity to educate those who are making important decisions about expenditures in Kentucky and issues that affect Kentuckians."
Posters-at-the-Capitol is a collaborative program where students from each of Kentucky's eight public universities and the Kentucky Community and Technical College System present the results of research they have conducted as part of their college experience before the state legislature.
"The University of Kentucky is deeply committed to a culture of undergraduate research because of the profound impact it has on learning and the inherent value it brings to the Commonwealth of Kentucky," said UK President Eli Capilouto. "By engaging in innovative research activities and inspiring a generation of thinkers, pioneers and inventors, we position ourselves to address our state's most intractable problems and create a better future for all Kentuckians."
The UK students who will participate in Posters-at-the-Capitol this year include:
Sarah Barney: "The Effects of Management Practices on Functional Diversity in Organic Cucurbit Production Systems." Mentor: Jason Schmidt, James Harwood and Mark Williams.
 
James Crouch: "Form vs Function: the Impact of Aesthetic Design on the Usability of Bus Shelters." Mentor: Melody Carswell, Ryan Hargrove and Bob Sandmeyer.
Emerson Dick: "Utilization of a Calmodulin Lysine Methyltransferase Co-expression System for the Generation of a Combinatorial Library of Post-translationally Modified Proteins." Mentor: Luke Bradley and Robert Houtz.
Stratton R. Hatfield: "Population Dynamics of the African Lion (Panthera leo L.) within the Maasai Mara Region of Southern Kenya." Mentor: John Cox.
Talia Henkle: "Comparison of Immune Gene Expression Between Virulent EIAV and an Attenuated Vaccine Strain." Mentor: David Horohov and Charles Issel.
Marquiana Jusma: "Revisiting Incisor Allometry and Diet (Again): New 2D and 3D Approaches to an Old Question." Mentor: Andrew Deane.
Amanda Kaiser: "Adding Insult to Injury: Hypoxia Following Ethanol Exposure Produces Multiplicative Damage in Vitro." Mentor: Susan Barron.
Kellie Owen: "Measuring the Economic Impact of the Agriculture Industry in Fayette County." Mentor: Alison Davis.
Aman Shah: "RNA Degradation is Elevated with Age-, but not Disuse-Associated Skeletal Muscle Atrophy." Mentor: Esther Dupont-Versteegden.
Kunal Sunthankar: "Dependence of Volume of Distribution on Gel Strength for Convection Enhanced Delivery of Drugs to the Brain." Mentor: Luke Bradley.
Wesley J. Urian: "A Model to Explain Learning Deficits Following Prenatal Alcohol Exposure." Mentor: Susan Barron.
Victoria Votaw: "An Explanation for Hyperactivity following Prenatal Alcohol Exposure." Mentor: Susan Barron.
Rebecca Wente: "Effects of Intraguild Cues of Ground-dwelling and Foliage-dwelling Spiders on Lady Beetle Oviposition and Aphid Suppression." Mentor: James Harwood.
Sarah Whelan: "Vasa: Understanding Genomic Rearrangement in Lamprey." Mentor: Jeramiah Smith.
Elina Matveeva: "Two is Company, Three is an Envious Crowd: Effects of a Third Party Evaluator on Expressions of Envy According to Lacanian Psychoanalytic Perspective." Mentor: Richard Smith.