by Jenny Wells
(Dec. 16, 2013) — The University of Kentucky Office of Undergraduate Research has honored 18 students with the Oswald Research and Creativity Program awards.  Representatives from the Office of Undergraduate Research, along with director  Diane Snow, presented the winners with certificates at a reception on campus Dec. 5.
Established in 1964 by then-UK President John Oswald, the Oswald Research and Creativity Program encourages research and creative activities by undergraduate students at UK. The objectives of the program are to stimulate creative work by undergraduate students and to recognize individuals who demonstrate outstanding achievement.
Categories include Biological Sciences; Design, including architecture, landscape architecture, and interior design; Fine Arts, including film, music, photography, painting, and sculpture; Humanities, from creative and critical-research approaches; Physical and Engineering Sciences; and Social Sciences.  All submissions are sent anonymously to faculty reviewers in related fields and are judged based on a rubric.
Awards in each category are: First Place: $350; Second Place: $200; and Honorable Mention, if applicable. Entries are judged on originality, clarity of expression, scholarly or artistic contribution, and the validity, scope, and depth of the project or investigation.
This year's award winners are:
Biological Sciences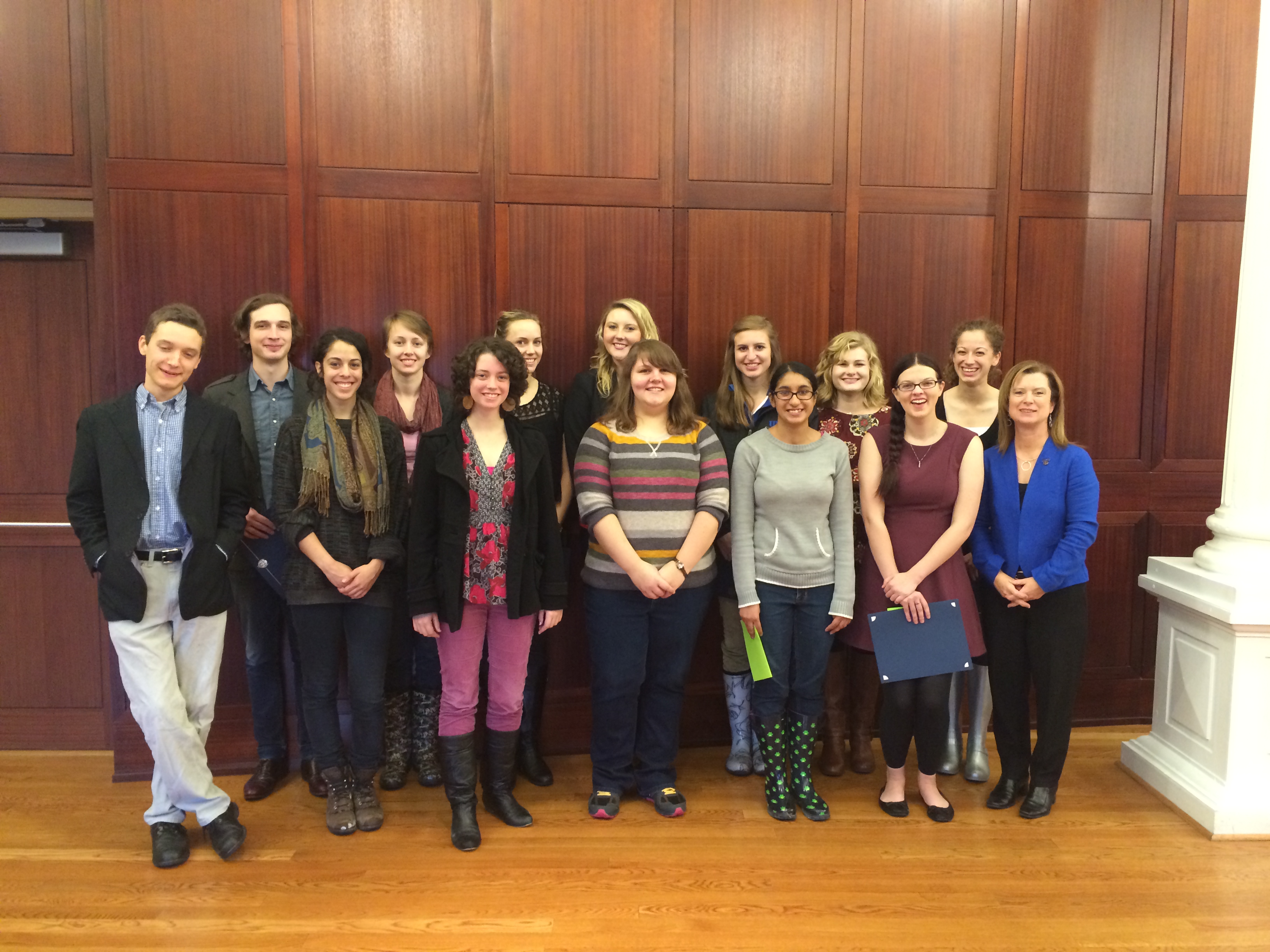 First Place: Manasi Malik, "Alternative Splicing of CD33 Associates with Alzheimer's Disease Protective Polymorphism "
Second Place: Raquel Hegge, "Alteration of Pituitary Genomic Expression Profiles in Cattle Grazing Endophyte-Infected Tall Fescue"
Design
First Place: Brittany Holian, "Flare Sunglasses"
Second Place: Thompson Burry, "tri-synthesis"
Fine Arts
First Place: Roya Ramezankhani, "Exhale"
Second Place: Benjamin Norton, "'White Walls' (and 'Skinner Box Mortgage')"
Humanities: Creative
First Place: Heather Sims, "Healing"
Second Place: Kathlyn Fisher, "Curls Just Want to Have Fun"
Honorable Mention: Autumn Murphy, "Room 87"
Honorable Mention: Emily Furnish, "Patio is a Fancy Word for Deck"
Humanities: Critical Research
First Place: Autumn Murphy, "Operatic Interactions: Comparing Characterization Methods in Moby Dick"
Second Place: Emily Furnish, "Felon Disenfranchisement: Rousseau and the U.S. Criminal Justice System"
Honorable Mention: Talia Henkle, "Mel Brooks' 'The Producers': A Comment on the Johnson Administration"
Physical and Engineering Sciences
First Place: Tyler Jake Flynn, "Novel Photopatternable Polymer Micromagnets for Microfluidics and Microbiotics Applications"
Second Place: Matthew Fahrbach, "Properties of Peak Set Polynomials"
Social Sciences
First Place: Olivia Smith, "Earlier School Start Times as a Risk Factor for Poor School Performance"
Second Place: Sarah Hayden, "Calling in the Big Guns: Desire for Military Intervention in Politics"
Honorable Mention: Emily VanMeter, "Apres le Coup: The Impact of Coups D'etat on Interstate Relationships"