by Jenny Wells, Carl Nathe
(April 23, 2014) — As a University of Kentucky Commencement tradition, two students have been selected to serve as speakers for the two undergraduate ceremonies Saturday, May 10.
Emily Willett will speak at the 1 p.m. ceremony and Pooja Reddy will speak at the 6 p.m. ceremony. Willett and Reddy were selected among several candidates by UK President Eli Capilouto to represent the May 2014 undergraduate class.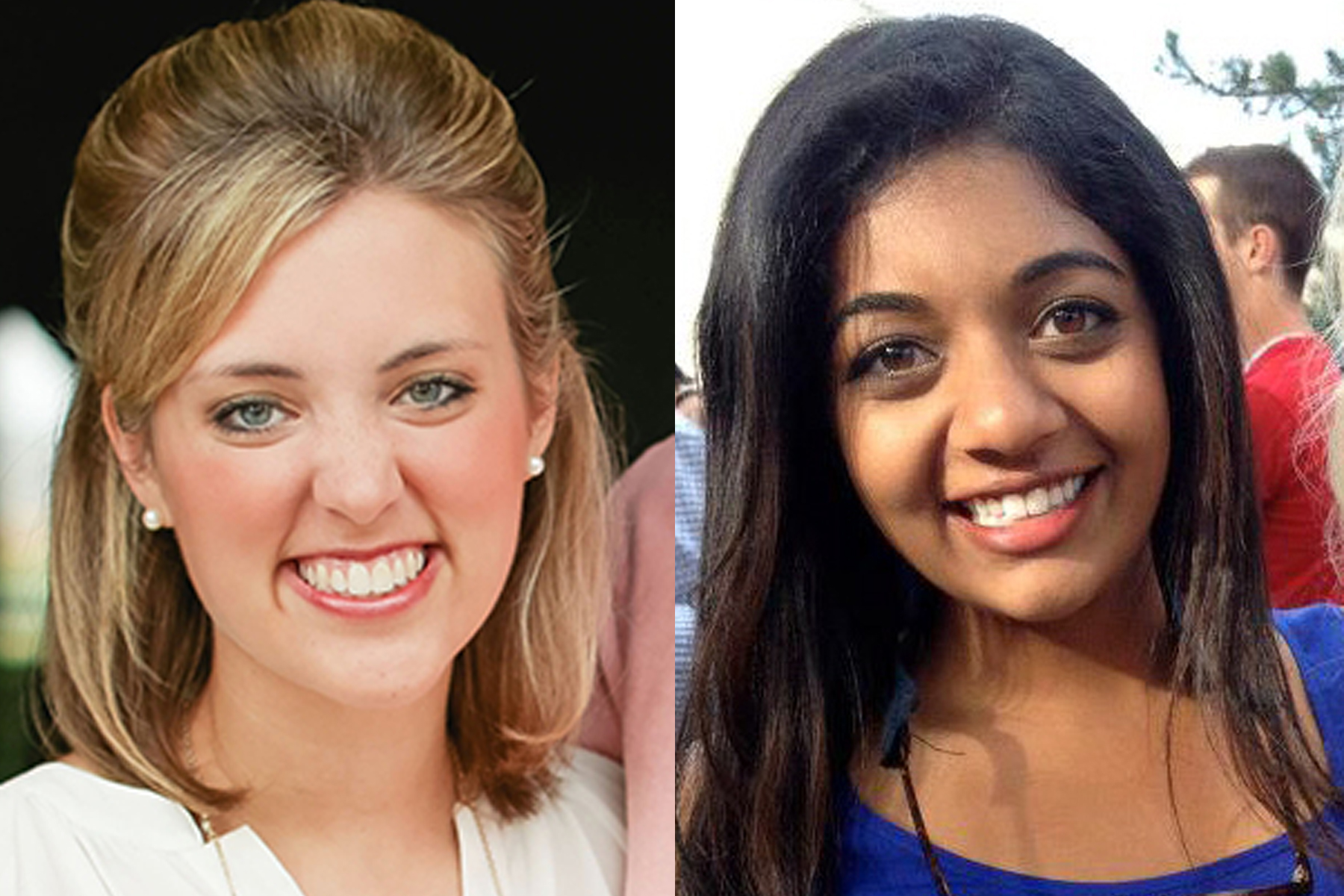 Willett, from Ormond Beach, Fla., is graduating Summa Cum Laude with a degree in management from the Gatton College of Business and Economics.  She is a third-generation UK student and has been involved in the UK Women's Choir (serving as president for one year); Paws and Listen (UK's female a capella group); UK Student Government; DanceBlue  (2013-14 corporate relations chair); and Alpha Delta Pi sorority.  She is also a campus tour guide and student director at the UK Visitor Center.
Willett will enter the UK College of Dentistry this fall, and ultimately wants to open her own practice in orthodontics.
"I am very excited to be giving the student commencement address to the Class of 2014," Willett said. "At the beginning of my sophomore year, I had the privilege of welcoming incoming freshmen to UK as the student speaker for the New Student Induction Ceremony.  It is a real honor to be able to cap off my Wildcat career by delivering this speech."
Reddy, from Glascow, Ky., is graduating Cum Laude with a degree in psychology from the UK College of Arts & Sciences. She has two minors, political science and international studies, and a global studies certificate.
While at UK, Reddy has served as co-creator of the "Get Fit, Get Active" initiative, an effort to mobilize UK's campus, and as a peer mentor for the Emerging Leader Institute. She was the recipient of the "Wildcats in Washington" Congressional Scholarship and was chosen for the Freshman Leadership Development Program. She has worked with the World Health Organization headquarters under the Tobacco Free Initiative in Geneva, Switzerland, and completed a legislative internship with the House of Representatives in Washington, D.C. This semester she held a legislative internship in Frankfort under the Majority Caucus Chair. Reddy is also a member of Alpha Delta Pi sorority, the Indian Cultural Exchange Dance Team, and is an on-air DJ for WRFL, 88.1FM.
Reddy says she'd like to use her identity as a first generation American with deep ties in India to serve the interests of both India and the U.S. She plans to study international law and earn joint master's degrees in public policy and diplomacy.
"As Commencement speaker, I'd like to unite our class and highlight the similarities we share as University of Kentucky graduates," Reddy said. "My upbringing in rural Kentucky, background as a first generation American, and broad involvement on campus, allow me to understand that UK hosts a diverse student body deserving of a representative they can relate to. I'm honored to address the Class of 2014 and hope they take away an important theme of my speech: education is a gift and a responsibility not to be taken lightly, and what we choose to do with that gift is entirely in our hands."
The May 2014 Commencement Ceremonies will be held Saturday, May 10 in Rupp Arena. The Graduate and Professional Commencement Ceremony will take place at 9 a.m., followed by the Undergraduate Commencement Ceremonies at 1 p.m. and 6 p.m. The 1 p.m. ceremony will feature the College of Agriculture, Food & Environment; the Gatton College of Business & Economics, the College of Education, the College of Engineering, and the College of Nursing. The 6 p.m. ceremony will feature the colleges of Arts & Sciences; Communication & Information; Design; Fine Arts; Health Sciences; and Social Work. 
Students who plan to participate in the Commencement ceremonies should register by April 25 to have their names appear on screen when their names are called during the ceremonies.  
All three ceremonies will be live streamed on UKNow.
For more information about the May 2014 Commencement Ceremonies, click here.