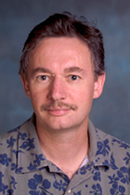 University of Kentucky alum James Booth has found a perfect combination in statistics and genetics.
A Blackpool, England native, Booth studied at the University of Leeds before coming to the United States to study in the Bluegrass. He earned his undergraduate degree in mathematics and his master's degree in statistics at Leeds before looking at Ph.D. programs.
"I decided to go to the United States for my graduate program and I really only looked at three universities," Booth said. Those three were Florida State University, Cornell University and UK.
UK professor Joe Gani was well-known among math and statistics faculty at Leeds and Booth ultimately headed to Kentucky in January 1982.
Booth landed in New York before heading south. "It was the first time I came to America and right away, the difference between New York and Kentucky was a shock," he said. "They were completely different atmospheres. Kentucky was very friendly. I went to UK because it had such a strong statistics department at the time but then the atmosphere was really a nice addition."
Booth found the courses he took at UK to be rigorous. "I felt like I got a very good training in statistics," he said.
He also met his wife while here - on Transylvania University's campus. "We met on the soccer field," he said. The couple has three children.
During his last semester at UK, Booth interviewed for just one position at the University of Florida. He was hired right away and began his job as an assistant professor there in 1987 immediately after he graduated from UK. During his 16-year stay there, Booth spent more than two years at the Australian National University studying with Peter Hall.
Near the end of his time in Florida, Booth took a sabbatical in order to spend time at Cornell. In 2004, Cornell offered him a permanent position in the Department of Biological Statistics and Computational Biology.
The department was still relatively new, having been formed in 2000 from what had been known as the biometry department, Booth said.
"It was changed because Cornell wanted to prioritize research in biomedical statistics, particularly in genetics," Booth, the chair of the department for three years, explained.
"There is a lot of data being generated by all of the new technologies and there is such a need for people who know how to analyze that data," he said.
Booth still has ties to UK, recently collaborating with Ruriko Yoshida on a paper that focused on contingency tables. It was published in the Journal of Computational and Graphical Statistics.
For students considering careers in math or statistics, there are great prospects in the field of genetic data, Booth said. "Modern technology and computers are generating enormous amounts of data and there is a tremendous need for people to explain and simplify it," he said. "That's what my field really does."
by Sara Cunningham