The Graduate Certificate in Applied Statistics (GCAS) allows students studying in programs outside the Dr. Bing Zhang Department of Statistics to learn a basic background in the design and analysis of quantitative data. This credential allows student to demonstrate quantitative expertise with prospective employers as well as better conduct quantitative research in their dissertations. Tuition information can be found on this webpage, and refund information can be found on this webpage.
In many programs, several courses in the GCAS are already required, meaning the certificate can often be obtained with a minimal amount of extra coursework. This page provides information on the GCAS. If you have any questions, please contact the Director of Graduate Studies in Statistics at stat-dgs@uky.edu.

Admission Requirements
To be admitted to this curriculum and work towards an Applied Statistics Certificate, students must be admitted to the graduate school. GRE scores are not required for admission into the graduate certificate program.
Steps to Earn Graduate Certificate
Prior to starting certificate coursework, students must receive departmental approval.  To request approval, please fill out the form found here. To view curriculum requirements, please see the Curriculum section near the bottom of the page.
If your coursework is approved, you must then apply for formal admission to the Certificate program in Applied Statistics through the Graduate School.  This step is required in order to complete the application process***.  The application can be found here.  Please note that a new Graduate School rule requires that all students not currently enrolled in a degree program at UK must submit official transcripts. Letters of Recommendation are not needed for the certificate.
During the semester in which you plan to finish your coursework, fill out an application to graduate on myUK before the appropriate semester deadline.  Additional instructions on how to apply to graduate can be found here. 
***When you apply, you must use a different email address than the one you used to apply to your current degree program.  You will need to upload your current UK transcript, which you can access from myUK.  If you are currently in a graduate program, ApplyYourself will automatically apply a fee waiver when you confirm your enrollment within the application. If this does not occur by default, you may email your Admissions Officer for help.  Please note that if you have already graduated, you will not be entitled to a fee waiver.  
***When you apply, you must click "Online" rather than "On Campus" as it's a certificate with online coursework (see image below).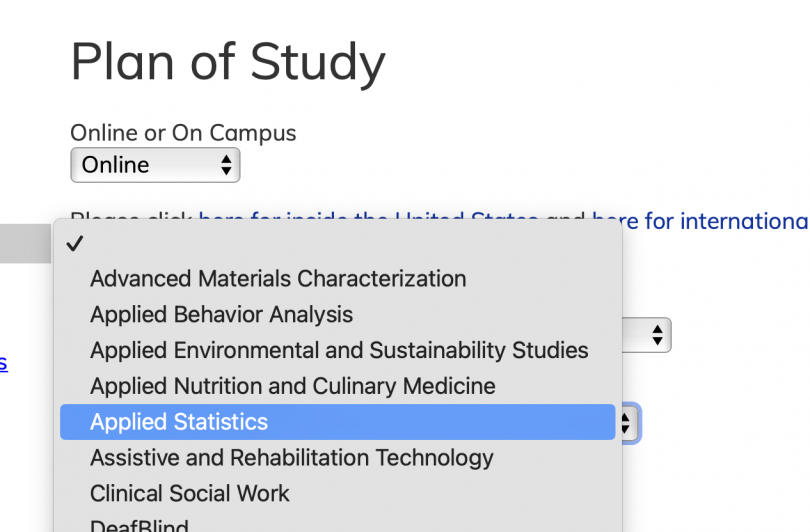 Objectives
To prepare students to perform statistical data analysis needed for their research.
To educate students concerning assumptions behind each statistical method and how to check those assumptions.
To educate students concerning identification of the appropriate statistical analysis in any particular situation.
Students will be required to complete 12 hours of class work with no grade lower than B to complete the curriculum. The current curriculum is:
STA 570 (Basic Statistical Analysis, 3 hours)
STA 674 (Regression Analysis and Design of Experiments, 3 hours)
STA 677 (Applied Multivariate Methods, 3 hours)
STA 678 (Statistical Computational Theory and Data Visualization:  R and SAS, 3 hours)
Interested? Please contact the Director of Graduate Studies at stat-dgs@uky.edu.