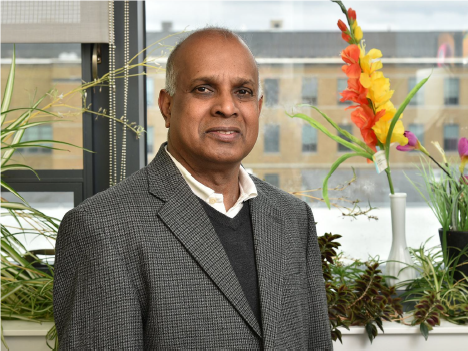 An alumnus of the University of Kentucky's doctoral program in statistics recently received the SUNY Chancellor's Award for Excellence in Teaching.
SUNY Oswego mathematics professor Ampalavanar Nanthakumar was recognized for his skills as an educator, dedication to students and contributions to the field of statistics.
"Professor Nanthakumar has excellent communication skills with an impeccable teaching record at SUNY Oswego," wrote his nominator, Kamal I. Mohamed, a biology professor and director of Rice Creek Field Station. "As an instructor he can motivate, inspire, encourage and identify with students. Students in his classes described him as caring, fair and encouraging, enthusiastic and well prepared."
Nanthakumar also has supervised more than 50 student capstone projects, independent study projects, Scholarly and Creative Activity Committee Challenge Grants and internships, some of which resulted in published research in peer-reviewed journals, Mohamed said.
Nanthakumar is known for staying connected with students, many of whom go to graduate school and related professional positions, demonstrating an exemplary level of commitment and care.
"Since his arrival at Oswego in 2001, Professor Nanthakumar has collaborated with several of his colleagues on campus and elsewhere on many projects and produced  significant results that contributed positively to our understanding of statistics and statistical analysis," Mohamed wrote. "The research conducted by Professor Nanthakumar is outstanding. He pursued the difficult task of designing and executing well-needed statistical projects. His findings made a significantly positive effect in our understanding of statistical analysis."
A 2018 recipient of the SUNY Oswego President's Award for Scholarly and Creative Activity, Nanthakumar also has served the campus as president of the Sigma Xi scientific research honor society, chair of the Institute for Global Engagement's Cultural Committee and International Student and Visiting Scholar Committee, and by leading math department committees on promotion, retention and tenure and on curriculum.
He earned his bachelor's degree from the University of Jaffna in Sri Lanka, a master's in statistics from Bowling Green State University and a Ph.D. in statistics from the University of Kentucky.